Moving to a new city can be an exciting yet daunting experience. So naturally, you want to make sure you choose the best neighborhood for your family and that it's close enough to amenities like schools, shopping centers, hospitals, etc. But how do you know which neighborhoods will meet your requirements? Fortunately, Nashville is a big city with many different types of neighborhoods: from laid-back and mellow residential areas to trendy and hipster-filled communities. Here we'll give you all the information you need about the best neighborhoods in Nashville and a few up-and-coming areas too!
Overview of Nashville
Nashville is a city in the U.S. state of Tennessee and the county seat of Davidson County. It is located on the Cumberland River in the north-central part of the state. The city is a center for the music, healthcare, publishing, banking, and transportation industries, and is home to numerous colleges and universities including Vanderbilt, Tennessee State, and Belmont.
Since its founding in 1779, Nashville has grown to become the most populous city in Tennessee, with a population of 692,587 (2018). And the city's metropolitan area ranks 24th largest in the United States, which has an estimated population of 1,989,519 as of 2020.
The city of Nashville has a rich history and was chartered as a city in 1806. It's known for its country music scene, which has been a booming industry in the city since the 1920s when it was home to one of the headquarters for companies like RCA Records and others that helped promote Nashville as a center for musical recordings, especially with Country and Christian music artists. In modern times, Nashville is consistently ranked among America's top places to live, work, and play by various publications, which are a few of the many reasons why everyone is moving to Nashville!
The Housing Market in Nashville
As you'll soon discover the Nashville housing market is extremely hot right now. Home prices are appreciating at a rate above the national average, and there's high demand but low inventory, especially for homes under $400,000. This has made it very challenging for people looking to buy a new home and move to the Nashville area.
That said now is a great time to consider selling your Nashville home. Since the real estate market is doing so well, a lot of sellers are either getting the full asking price or above asking. However, buyers are looking for move-in-ready properties, and listing a home while the market is hot is important.
To help a home sale run smoothly, some sellers prefer to work with cash home buyers in Nashville instead of selling with a real estate agent. By selling to a "We buy houses in Nashville" company, home repairs are not required, and you can receive a cash offer in as little as 24 hours and close within 7 days. Another perk to working with a homebuyer instead of hiring a listing agent is no realtor commissions. Not only will you be able to save thousands of dollars on home repairs but also 5-6% on agent fees.
>> Thinking about moving to Music City? Check out these Things to Know Before Moving to Nashville!
Neighborhoods in Nashville
Nashville has a variety of neighborhoods. Some are older, with classic brick homes and tree-lined streets. While others are more modern or new developments that offer condos, townhouses, or apartments, with walkability to boutiques, coffee shops, nightlife, and eateries.
So if you're considering moving to Nashville, you'll want to find the best neighborhood that fits your lifestyle. To give you an idea of what neighborhoods in Nashville you should take a look at, here is a list based on a variety of lifestyle needs.
Excellent Public Schools – anywhere in Williamson County.
Singles/Young Professionals– Downtown, Midtown, The Gulch, Music Row.
Couples/Young Families– Germantown, East Nashville, The Nations, Green Hills, Brentwood, Franklin.
Affordable Real Estate – Smyrna, Antioch, Murfreesboro, Spring Hill, Bellevue, and Mount Juliet.
Luxury Real Estate– Green Hills, Belle Meade, Brentwood, and Franklin.
Continue reading to find out the best-voted neighborhoods in Nashville!
Best Voted Neighborhoods in Nashville
If you're looking for a great place to live in Music City, look no further! These are the 15 best Nashville neighborhoods that have been voted by locals as some of the best areas in town:
Midtown/West End
A diverse area that's home to Vanderbilt University as well as Centennial Park where the Parthenon is located. This area is usually a popular area for college students. You'll also find music venues that offer live music scattered throughout the Midtown area.
The Nations
Referred to as hip, funky, and friendly, the Nations is a neighborhood on the west side of town that's seeing a lot of growth and redevelopment. The area offers plenty of restaurants, shops, and craft brewers and is known for its arts district, which is home to galleries, a performance theater, and artist studios.
East Nashville/Five Points
A neighborhood that has seen a lot of growth in recent years with an influx of young professionals and families. It's known for its eclectic mix of restaurants, bars, and shops. East Nashville is located just north of downtown and has a small-town feel with a mix of charming bungalows and modern houses. It was once considered an undesirable part of town but is now home to many professionals who are looking for more affordable housing options with easy access to work, the greenway, golf course, shopping, etc.
Germantown
A neighborhood just northwest of downtown Nashville that has a lot going on. It's known for being one of the oldest neighborhoods in town as well as home to some popular restaurants and bars as well as great places to shop. Also, within walking distance is the Nashville Farmers Market and Bicentennial Capitol Mall State Park. The area also includes several historic homes and areas of new development such as condos, townhomes, and other housing options.
Downtown Nashville
Downtown features a commercial district along Broadway Street with many shops, restaurants, and bars making it one of the city's most popular entertainment districts for tourists and locals alike. Part of Nashville's downtown area includes The Gulch and Sobro which offers high-rise living, art galleries, Bridgestone, honky-tonks, patios, and hot spots.
Edgehill
A neighborhood that's located right next to downtown Nashville. In addition, Edgehill is home to Belmont University, a private Christian University. Descended from Belmont Women's College, founded in 1890 by schoolteachers, the institution was incorporated in 1951 as Belmont College. Edgehill is also close to Hillsboro Village, Belcourt Theatre, and Music Row.
Music Valley
A historic neighborhood on the east side of town that's home to several tourist attractions like The Grand Ole Opry, the Country Music Hall of Fame and Museum, and the Gaylord Opryland Resort & Convention Center.
Hermitage
A large area on the east side of town is home to a mix of neighborhoods, including Donelson, Old Hickory, and Hermitage. It's known for being family-friendly with plenty of things to do like fishing.
12 South
A neighborhood that's located just south of downtown Nashville. It has a commercial district along 12th Ave. S. with many shops, restaurants, and bars, making it one of the city's most popular entertainment districts for tourists and locals alike. You'll also find Sevier Park a local green space.
Green Hills
Green Hills is a neighborhood on the east side of town known for its high-end retail shops, restaurants, and hotels. Green Hills is one of the more expensive neighborhoods in Nashville with the average home price at around $787.2K.
Franklin
A suburb south of Nashville that was ranked as the #6 best place to live in America by Money Magazine in 2018. Franklin is located in Williamson County, which is known for its excellent schools. Besides being a great place to live and raise a family, Franklin has several historical Civil War sites and a charming downtown area with shops and restaurants.
Brentwood
Brentwood is a suburb on the southwest side of Nashville known for its large homes, high-end shopping, and restaurants. Parts of Brentwood are in Williamson County and other parts are in Davidson County. Brentwood is also known for its good school districts and its close proximity to downtown Nashville is a plus.
Belle Meade
A suburb on the west side of Nashville that's known for its luxury homes, horse country, and upscale shopping. The median listing price in Belle Meade is $3M.
Nolensville
Nolensville is a suburb in the southeastern part of Williamson County known for its small-town charm, rolling hills, and vineyards. Perks of living in Nolensville include great schools and close proximity to Nashville (22-miles drive).
Spring Hill
A suburb on the southern side of Williamson County and is located 30 miles south of Nashville. It was ranked as one of the safest cities in Tennessee in 2020. Parts of Spring Hill are located in Williamson County while other parts are located in neighboring Maury County. Spring Hill offers shopping, restaurants, good schools, and local employment. This area is popular because of its more affordable real estate prices.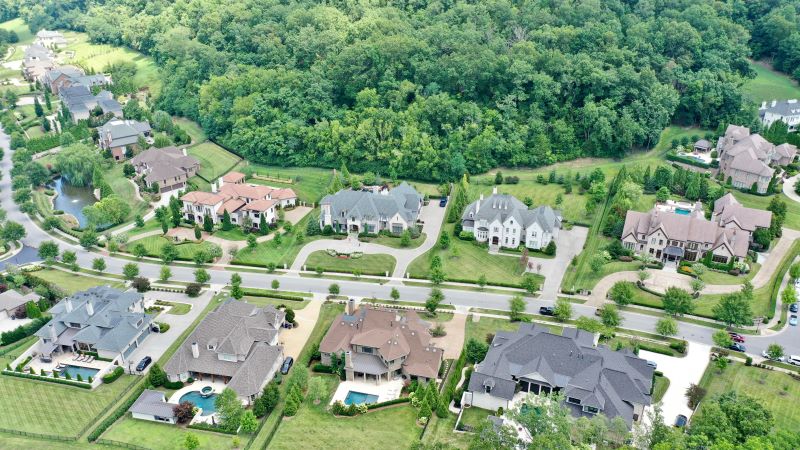 Up and Coming Neighborhoods in Nashville
While some people may think that all of Nashville's best neighborhoods are already well known, there are actually a number of up-and-coming neighborhoods that are quickly becoming popular with young professionals and families. Some of these neighborhoods include:
West Nashville – Charlotte Park – The establishment of Charlotte Park dates back to the 1960s when it served as an area to house the Ford Glass Plant employees. Now, the neighborhood is evolving into one of the leading emerging neighborhoods in Nashville. Located in West Nashville, Charlotte Park took to the rise following the growth and popularity of its neighboring areas, Sylvan Park and The Nations.
North Nashville– The North Nashville community is one of the oldest in the city and has a wealth of history dating back to the 1800s. In its early period, several German immigrants settled in what is now Germantown. As a result, much of North Nashville has a distinctly urban feel to it and is very walkable. The residential development continues to flourish, with many new single-family homes, townhouses, and condominium complexes.
East Nashville – Dickerson Pike– The vast area of East Nashville consists of several smaller communities, many of which have already experienced a great deal of growth. However, the area of Dickerson Pike is just starting to put itself on the map as an up-and-coming neighborhood in Nashville. Although the area is still working to turn around its high crime rate, developers took a strong interest in Dickerson Pike for its prior lack of construction and stunning skyline views.
Madison– Madison also makes our list of up-and-coming neighborhoods in Nashville to keep your eye on. Similar to Dickerson Pike, the area of Madison capitalizes on the homebuyers who can no longer afford the more popular destinations in East Nashville or Inglewood. Madison is now quickly grabbing the attention of many for its affordable housing options and improving crime rates. In addition, the location allows families to live adjacent to the more affluent neighborhoods at a much lower cost.
Southeast Nashville – Antioch– The neighborhood of Antioch gained its name from the Antioch First Baptist Church back in 1810. In the beginning, the small town was predominantly occupied by local farmers. However, the expansion of the Nashville sewer system in the 1970s drove up the residential population. Over the years, Antioch began gaining a bad rep for its increasing crime rates. As the community grew, stronger and safer, commercial and corporate businesses began to make a comeback and open throughout the neighborhood. The area has now become a hub for job opportunities and is the second-largest employment center in Nashville. As a result, the demand for real estate in the neighborhood is quickly growing, and housing costs are rising along with its popularity.
Final Thoughts
Nashville is a great city with plenty to offer for those looking to move. However, with so many neighborhoods to choose from it can be hard to know which one is the best fit for you and your family. Hopefully, this article has helped provide some information about Nashville's best-voted neighborhoods and given you a better idea of what each area has to offer.
Thinking about selling real estate in Tennessee, Alabama, or Georgia? We can help! If you need a real estate professional to "Buy my house Tennessee" you'll want to contact the top homebuyer in the Nashville area- Nexus Homebuyers! We buy houses, duplexes, triplex's, and apartment complexes all over the Music City. Feel free to visit our website for more information about how it works or about our company!