Although a condemned house to most sounds like something terrible and certainly undesired, the reality is that such properties are not lost causes. As a seller, there is a lot that you can still do, like selling a condemned property after some renovation and repair work. Many people prefer selling a condemned house for cash and ensuring a quick and seamless selling process. On the other hand, if you're a buyer, buying a condemned property in TN could turn into one of your best deals.
Regardless of whether you are an owner of a condemned property looking to sell your house fast or you're willing to put in the extra work for repair or renovation, there are a few things that you should be aware of when it comes to selling a condemned property in Tennessee. In this article, we'll explore in detail the process of selling a condemned house in TN and answer all of your questions
Condemned House: What You Need To Know About A Condemned House
What is a Condemned House?
For starters, let's see what determines a condemned house. A condemned house is one that is no longer suitable for people to inhabit. If you're wondering what makes a place condemned, there are a few things or condemned house rules that could cause the local government to condemn a property:
The house has been empty and completely abandoned for a time period of two months or more
All utilities connected to the property have been cut or have not been installed, including water and electricity
Following a property inspection, the inspector reports that there are certain hazards in the property that could be threatening to the safety and well-being of humans
The property has been dilapidated by an inspector or has been categorized as condemned without any hazards described
There are additional reasons that could lead to the property being condemned, like missing permits or renovation that has been done not according to regulations. A condemned house in TN may still be sold under some circumstances. We'll look into the process of selling a condemned in TN house later on in this article.
Can You Still Live in a Condemned House?
One of the most common questions people have is can you still live in a condemned house. The rules for living in a condemned house vary from state to state and the best thing to do is to speak to an attorney or to the local government to understand your rights. Under condemned house rules, in most cases, the property can't be inhabited by both the property owner or any tenants. Normally, the state or local authorities will notify everyone about the condition of the house by putting up a condemned sign on the property.
Owners of condemned houses in Tennessee will be notified about the property's condition via a letter that offers two options – to either make the required repairs or vacate the home.
However, something to keep in mind; although you or your tenants aren't living in the property, that doesn't mean other guests may not make themselves at home. Condemned houses are usually targeted for unwelcome visitors, including squatters, vandals, or trespassers because usually, the home is sitting vacant. They may either move into the unsafe property or cause even more damage to the home. So you'll want to decide if you're going to sell the house or make the necessary repairs as soon as you can; that way, the home isn't susceptible to further damage that devalues the property. 
→ Did you know that squatters have rights too? If you have squatters living in your condemned house learn more about their rights by clicking here.
Can You Sell a Condemned House?
Another popular question people have is can you sell a condemned house in TN? Although normally, selling a condemned house is not something you can do, there are a few things that could be done to make the sale possible. Condemned property laws in TN state, that condemned property cannot be sold as a structure but the land can still be sold. The buyer will have to pay the price for tearing down the structure and receiving the approval for a mortgage, in this case, is rather difficult. 
If you're interested in selling a condemned house or selling your house as-is, it's essential to sell fast before it's officially condemned. You can also stop the process by arranging a deal with the local government, where you agree to repair and make the necessary changes to the property in a given time period.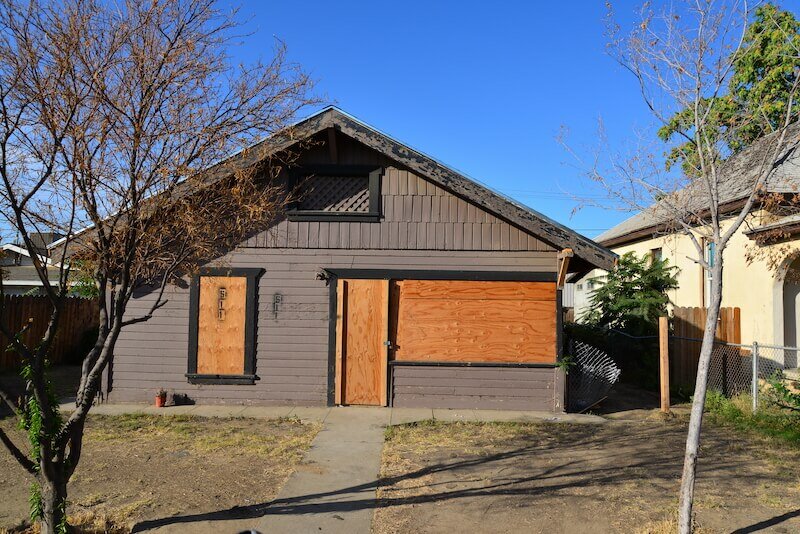 Tips for Selling a Condemned House
Selling a condemned house may sound like something impossible but this is far from reality. There are certain tips for selling a condemned house that will definitely help you exit the situation with more advantages, which will help you save time and money. Let's look at what you could do to ensure the process of selling a condemned house in TN goes smoothly and successfully for you.
Choose a Selling Strategy
You have a couple of strategies to choose from when selling a condemned house. You can list with an agent, sell by yourself, or sell to an iBuyer. Each selling strategy does have its pros and cons. Let's take a look at each option to help you figure out how you should sell your condemned house.
Sell with a Local Real Estate Agent
Listing with a realtor isn't a bad idea since they will be hands-on with the sale of your condemned property. Your agent should handle most of the selling process, and he or she may already have a buyer in mind that's looking for a teardown or a housing project. But more than likely, you will have a hard time selling if you plan to list the property as-is. Most buyers aren't looking for fixer-uppers, let alone a home that's been condemned. So your house may be on the market for a while until the perfect buyer comes along.
Something else to keep in mind when hiring a listing agent- commissions. Yes, they will handle selling your house so you won't have to, but they don't work for free. The average agent commission in Tennessee is 5.6-6%, split 50/50 between the buyer and seller's agents. To put that amount into perspective, if you were to sell the condemned home for $35,000 (land value only), the commission would cost $1,960-$2,100. For many people, that's money that they would otherwise prefer to keep, making homeowners look into other options to sell their condemned property like selling by owner or selling to an iBuyer.
Sell By Owner
A cheaper selling strategy is to sell by owner. Most homeowners looking to sell entertain listing FSBO because it's cheaper than listing with an agent. However, everything that an agent would be in charge of will now be your responsibility. Here is a list of things you'll need to do to sell a condemned home by owner in Tennessee.
Determine a listing price
Figure out if you're going to make repairs or sell as-is
Come up with a marketing strategy
Hire a photographer
Figure out a listing description
Advertise the property on real estate websites and social media
Answer questions via phone or email
Show prospective buyers around the property
Negotiate offers
Coordinate the closing
Consider hiring a real estate attorney
Fill out legal paperwork and disclosures
Needless to say, selling by owner won't be easy, but it is less expensive since you won't be hiring a listing agent. However, if the buyer works with an agent to purchase your property, you could be on the hook for their agent's commission. Using the amount above $35,000, the buyer's agent commission could cost 2.7-3% of the sale price ($945-$1,050). And even though you're doing all the work to sell by owner, the buyer may ask you to cover the commission as a part of the sales agreement.
Sell to an iBuyer
If you've figured out you don't want to sell with an agent or by owner, you can always consider selling your house online to an iBuyer. The only issue you may encounter is that sometimes iBuyers have specific housing criteria they are looking to buy, so they may not be in the market for a condemned house. You can always double-check, though; usually, they have helpful information on their website, or you can fill out a form online to get an offer.
Although their process is really easy to sell online without listing your home, they do charge service fees. Sometimes these fees are even more expensive than realtor commissions (6-7%).
Address the Violations First
Once you figure out what selling strategy you'd like to use, you'll need to decide if you will sell as-is or address the violations and repairs. If you'd really like for the condemned house to be included in the sale of the property, you'll need to address the violations first. Since people are technically not allowed into the home for safety reasons, you'll need to repair these issues before listing the property. First, figure out what code violations you were cited for; this should be in the letter you received regarding the property's condition. 
Here are some examples of common code requirements for a house to be deemed liveable:
Heat
Light fixtures
Safe electrical outlets
Ventilation
Hot water
Plumbing
After you find out what code violations you have against your home, contact a few contractors to get quotes for the repairs. You'll want to make sure to work with reputable contractors so that the work being done to the home is compliant with Tennessee building codes. After you get several estimates, determine what you can afford to have done that's within your budget. You'll also want to figure out your timeline for selling the abandoned home too. Some of these repairs can take a while, so if you need to sell quickly for the extra money, you may want to consider another selling alternative which will be covered shortly.
After the needed repairs are completed, you'll more than likely need to have the home inspected again to get approval that it is now deemed safe. After you've been cleared, then you can start the process of getting the house ready to sell.
Make Major Repairs
Once you've addressed all the code violations, you'll still need to access the home for other major repairs. Even though you may have fixed a drainage problem, mold, or electrical issue, you may still have other major repairs that need to be made around the house. You'll also want to uncover the improvements to do to boost home value. This could include taking care of any water damage, repairing or replacing the roof, taking care of the plumbing, replacing flooring, and more. Hopefully, the house hasn't been sitting abandoned too long because you may discover the home needs several major repairs. 
Here is an example of some of the most common major repairs and how much they cost:
| | |
| --- | --- |
| Replace Roof | Average cost $4,700-$10,500 |
| New HVAC | Average cost $3,200-$12,500 |
| New Water Heater | $1,000-$3,000 |
| Window Replacement | $300-$700 for each window |
| New Hardwood Floors | $12-$20 per square foot |
| Repaint Exterior of the House | $3,600-$5,000 for a 2,500sqf house |
Again you'll need to consider your timeframe and how quickly you were looking to sell because getting the abandoned house officially ready to list may take some time.
Many people just don't have the extra time or money to put towards getting their condemned property ready to sell. Plus, there is no guarantee that you'll make all of the money back after completing the necessary repairs. This also doesn't include agent commissions or service fees if you were to sell to an iBuyer.
For many homeowners in this particular situation, the best solution is to sell the property as-is to a cash home buyer.
Sell to Cash Home Buyers
When it comes to tips for selling a condemned house, one of the most valuable ones is selling a condemned house for cash. In most cases, cash buyers who are ready to invest in a condemned house have experience and financial stability behind their backs. Often, these are investors who can quickly and easily take care of the renovation and repair work, increase the value of the property, and resell it in an improved condition for more.
Another great part of selling to a cash home buyer is that they don't charge commissions or service fees; they will even help pay closing costs. Ultimately, saving you thousands of dollars.
For you as the owner of a condemned house, selling a condemned property for cash is advantageous as the sale is quicker, you don't have to wait for the buyer to receive mortgage approval, and you will get rid of a property that you would otherwise have to invest more in or potentially say goodbye to by tearing it down.
Conclusion
Condemned houses are a whole new world for people who haven't had any experience with this type of property. In order to get maximum results and ensure you're making the right steps, it's best to receive the help and support of a professional or work with a realtor or investor who can offer guidance and advice. We hope that this article will help you be better informed on the topic and make the right decisions if you find yourself in a situation where you are dealing with a condemned property. If you would like to receive more information on the topic and explore it in more detail, check out our case study.