The decision to relocate for a job is a milestone that carries both personal and professional implications. You might be eager to embark on this new journey, yet the logistics surrounding the process can seem overwhelming.
This guide is designed to help you navigate through the complexities of job relocation by providing a realistic timeline and sharing some strategic negotiation tips that can make your transition smoother and more manageable. We'll delve into factors such as selling your current home, finding a new residence in Alabama, and the logistics of moving.
We'll also examine ways to negotiate your relocation timeline with your new employer to ensure your move aligns well with your start date. Ultimately, our goal is to make your relocation experience less stressful and more rewarding.
Time You're Allowed For a Job Relocation
The average time allowed for a job relocation can vary greatly depending on the nature of the job, the distance of the relocation, and the company's policies. However, generally speaking, employers usually allow between 1 to 3 months for an employee to make the transition.
This period is intended to provide ample time for you to tie up loose ends at your current home, such as selling your property or ending a lease, and set up in your new location. It includes time for house hunting, packing, physically moving, unpacking, and settling into your new environment.
While this is the typical timeframe, it's important to remember that every situation is unique. For example, if you're moving from a large family home that you've lived in for many years, you may require more time to prepare for the move than someone who is relocating from a small apartment. Similarly, a relocation across the country or internationally will likely demand more time and planning compared to a local move.
If you find that the proposed relocation time provided by your new employer is not sufficient, it may be open for negotiation. You might discuss the possibility of remote working while you prepare for the move or request an extension to the relocation period. Remember, it's in the company's best interest for your move to go smoothly so that you can quickly settle into your new role and perform to the best of your abilities. It's always worth having a conversation about your needs.
How Long Does Job Relocating Take
Job relocation is a significant decision, and the timeline for such a move will depend on myriad factors. An average relocation process could take anywhere from one to three months, but specific circumstances can extend this period. Here are some elements to consider when determining the duration of your job relocation.
Your Current Housing Situation
If you own your current home, you need to factor in the time it takes to get your home ready to sell and then actually sell it. The real estate market in your area will greatly influence this duration. On average, a house might take 65 to 93 days to sell in the U.S., but this can vary based on location, time of year, and the condition and pricing of your home. If you need to sell a house fast in Alabama, you may want to consider other alternatives than traditional methods.
Your New Housing Situation
The time it takes to find a new home in Alabama will also impact your relocation timeline. Researching neighborhoods, viewing potential homes, and going through the purchasing process could take a few weeks to a few months. If you're considering renting instead of buying, the process could be quicker.
Family Considerations
If you have a family, their needs will also influence the timeline. You need to consider school enrollment for your children, which might necessitate moving during the summer. Your spouse's job situation is another factor. They may need time to find a job in the new location or to arrange a remote work agreement with their current employer.
Your New Job's Start Date
The start date of your new job is another crucial consideration. If the company needs you to start immediately, you might have to arrange for temporary housing in Alabama while dealing with permanent housing. If your new employer is flexible, you could negotiate a start date that allows for a relaxed relocation process.
Remember, every relocation timeline will be unique, so it's essential to consider all these factors and any others that might apply to your situation. The goal is to ensure a smooth transition that minimizes disruption to your life and your new job.
How to Negotiate Your Relocation Timeline
Negotiating your relocation timeline can seem a daunting task, but with the right mindset and a little preparation, you can make this process smoother and more manageable. Here are some strategies you can use.
Identify Your Ideal Timeline: Before entering any negotiation, it's essential to establish your ideal timeline. Understand the factors that might influence your timeline, such as selling your current home, school year timing for those with children, or your spouse's job situation.
Communicate Early and Clearly: It's crucial to communicate your timeline to your potential employer as early as possible. Be honest about your needs. If you foresee any potential delays, let them know. The more they understand your situation, the more likely they'll be to accommodate your needs.
Understand Their Needs: Equally important is to understand your new employer's timeline. They might need you to start sooner, and understanding their needs can help you find a middle ground that works for both parties.
Flexibility is Key: In negotiation, flexibility often leads to success. Be open to compromise. If you can't move within their ideal timeline, suggest alternatives such as telecommuting until you can physically move.
Leverage Relocation Assistance: Many companies offer relocation assistance, which can cover moving costs, temporary housing, or even assistance selling your current home. This could speed up your timeline and reduce stress.
Involve a Real Estate Professional: Selling your home can significantly impact your timeline. Engaging a real estate professional can expedite the process. They can provide a realistic timeframe for selling your home in the current market and can work with you to meet your timeline. Also selling to one of the cash home buyers in Birmingham can provide a quick home sale.
Remember, negotiation is a two-way street. A win-win scenario where both you and your new employer feel satisfied with the timeline will set a positive tone for your future work relationship.
Preparing for Your Relocation
Relocating for a job is a significant decision, often involving a complex, time-consuming process. You're not merely changing your workplace; it's about uprooting your life and planting yourself in a new environment. As a homeowner, it's even more challenging as it involves selling your current home and finding a new one. Below we'll take a look at a few ways you can prepare for your relocation.
Getting Organized
One of the first steps in preparing for relocation is getting organized. Start by making a checklist of tasks that need to be completed before, during, and after the move. This might include hiring a moving company, packing up your home, changing your address with the post office, and arranging for utilities at your new home.
Assessing Your Current Home
Next, take a hard look at your current home. It can be beneficial to hire a professional home inspector to provide a detailed report on the current condition of your property. Addressing any issues before listing can not only increase your home's value but also expedite the selling process. Don't forget to gather all the documents to sell your house.
Seek Professional Help
Working with a professional real estate team experienced in relocation can ease the transition. They can help determine a realistic selling price for your home, suggest improvements to enhance its appeal, and devise a marketing strategy to attract potential buyers. Or if you want to make the process entirely easy you can sell your home in as-is condition to a cash home buyer instead.
Negotiate a Relocation Package
If your move is job-related, consider negotiating a relocation package with your new employer. Many companies offer assistance with moving expenses, temporary housing, and even job search help for a trailing spouse.
Manage Time Expectations
Lastly, managing your time expectations is crucial in a home sale and relocation process. Depending on the current real estate market in Alabama, selling your home could take anywhere from a few weeks to several months. It's important to have a backup plan in place in case your home doesn't sell as quickly as anticipated, such as temporary housing.
Relocating for a job can be a complex process, but with careful preparation and professional guidance, it can also be an exciting opportunity for a fresh start.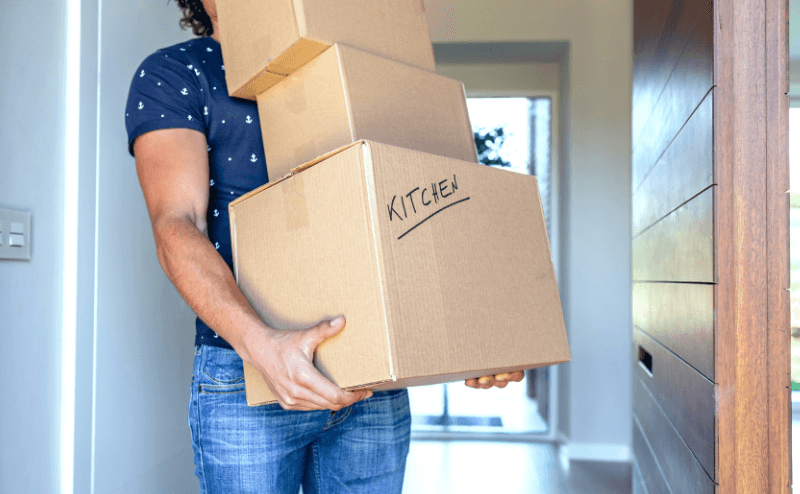 Checklist for Relocating to a Job
Research Your New Area: Use online resources to acquaint yourself with your new city. Consider factors like cost of living, school districts, culture, and local amenities.
Secure Housing: Whether you're buying or renting, secure a place to live before you move. If possible, visit the area to see potential homes in person.
Hire a Reliable Moving Company: Solicit quotes from several moving companies. Consider their reliability, cost, and whether they offer insurance for your belongings. Check out these tips for moving.
Declutter and Pack: Begin decluttering and packing early. Use this time to get rid of items you no longer need and organize your belongings.
Notify Important Parties of Your Move: This includes your post office, bank, credit card companies, insurance providers, and any subscription services.
Plan Your Travel Route: If you're driving, map out your route, including where to stay overnight and places to eat. If flying, arrange transportation for your vehicle.
Set Up Utilities: Contact utility companies to disconnect services at your old home on moving day and connect them at your new home.
Register Children in New Schools: If you have children, contact new schools to register them and transfer records.
Change Your Address: Update your address for all important documents and services (driver's license, insurance, bank accounts).
Arrange Pet Transport: If you have pets, decide how you will transport them and organize any necessary veterinary records.
Remember that moving is a process, and it's okay if everything doesn't go as planned. The important thing is that you are taking steps forward toward your new life in Alabama.
How to Sell Your Home Quickly Before Relocating
If you're relocating and need to sell your current home swiftly, here are some practical tips that can help expedite the process:
Price Competitively: One of the most effective ways to sell your house quickly is to price it correctly. Work with your real estate professional to determine a competitive price that aligns with the current market conditions in Alabama.
Improve Curb Appeal: First impressions matter. Enhancing your home's exterior can attract more potential buyers. Consider a fresh coat of paint, tidying your yard, or adding some new flowers.
Depersonalize and Declutter: Make it easy for potential buyers to envision themselves in your home by removing personal items and organizing your space. The goal is to create a clean, spacious environment that appeals to a broad range of buyers.
Stage Your Home: Professionally staged homes often sell quicker and at a higher price. A professional stager will arrange furniture and decor to highlight your home's best features.
Promote Your Home: Leverage multiple marketing channels to reach a wider audience. This can include online listings, social media, real estate websites, and traditional print advertisements.
Negotiate Effectively: Be prepared for negotiations. It's essential to know your lowest acceptable price and negotiate effectively to reach a satisfactory agreement.
Be Flexible with Showings: The more people who see your home, the better. Be flexible with showings to accommodate the schedules of potential buyers.
Make Necessary Repairs: Address any necessary minor repairs before listing your home. This could include fixing leaky faucets, replacing burnt-out light bulbs, or repairing any visible damage.
By following these tips, you can increase your chances of selling your home quickly and smoothly, making your relocation process to Alabama less stressful.
However, if you don't have the extra time or money to invest in selling your home the traditional way, you can always opt for a simpler and faster option: Selling your home directly to a cash buyer. A "we buy houses Huntsville" company will buy your property as-is, quickly, and without having to go through the hassle of repairs, showings, and paperwork. In most cases, they can close on your home within a few days, allowing you to start the next chapter of your life hassle-free.
Final Takeaways
In conclusion, relocating for a job in Alabama involves several crucial steps, from selling your existing home to organizing the move and settling into a new community. It's a process that requires ample planning, preparation, and patience. Market conditions may dictate the timeline for selling your home. However, with strategic pricing, effective marketing, and enhancing your home's appeal, you can expedite the process. Alternatively, cash home buyers are available for a swift, hassle-free sale. As you embark on this transition, remember that while it can be challenging, it's also an opportunity for new beginnings. Embrace the change, anticipate the unexpected, and look forward to the exciting journey ahead.