Knoxville is a city that has something for everyone; we have neighborhoods for families, areas where you can find peace and quiet, and sports or party lovers will enjoy living in the city too.
Knoxville is also seeing an influx of entrepreneurs moving to the area because it's such a great place to live.
So whether you're looking into moving to the Knoxville area or would like to find a better part of town that fits your lifestyle, we can help!
We've compiled the top best neighborhoods in Knoxville based on lifestyle; each one offers something different, but all are worth checking out!
Overview of Knoxville, TN
Before moving or relocating to any city, it's helpful to get a general overview of the area. First and foremost, Knoxville is located in East Tennessee along the Tennessee River and is 35 miles north of the great smoky mountains national park, less than 45-miles west of Gatlinburg, and 35-miles west of Pigeon Forge.
In 1982 Knoxville was put on the map for hosting the World's Fair, and the iconic Sunsphere is still a part of the city's skyline to this day. Knoxville can also be considered a college town, with the University of Tennessee located in the heart of the city.
As of 2021, Knoxville has a population of approximately 188,085 residences and is home to several company headquarters like Regal Cinemas, Pilot Flying J, Team Health, and Tennessee Valley Authority, to name a few.
Overall the cost of living is low in Knoxville, and the unemployment rate is low as well, which has increased its desirability to live in the metro area.
Is Knoxville a Good Place to Live?
So is Knoxville a good place to live? Knoxvillians think so!
Knoxville has a little bit for everyone, but what draws out-of-state families to move to Knoxville, TN is the lower cost of living, affordable real estate prices, four-season weather, outdoor activities, and Tennessee's no state income tax.
As you navigate the Knoxville areas, it's helpful to know that Knoxville is roughly divided into the Downtown area and sections based on the four cardinal directions: North Knoxville, South Knoxville, East Knoxville, and West Knoxville.
Below we'll share which are the best neighborhoods to live in Knoxville that will fit your specific lifestyle.
Best Neighborhoods to Live in Knoxville for Party Lovers
Being somewhat of a college town, you'll never be short of game day parties on the weekends, but if you're looking for something besides college and sports-related festivities, Knoxville offers that too. So whether you'd like to be close to all the action or walkable to the hustle and bustle, here are five places to live in Knoxville for party lovers.
Downtown Knoxville
The city center is one of the greatest areas in Knoxville for nightlife. It is seen as a crowded suburban area where more individuals rent than buy. Downtown Knoxville has over 146,000 inhabitants, which makes for exciting nightlife. There are several rooftop bars, cocktail lounges, sports bars, dive bars, arcades, bowling, and even a cocktail lounge in a bank vault. Most of the housing available downtown is apartments, condos, or townhomes.
Old City
The Old City has become one of Knoxville's most distinctive locations. Since the 1980s, millions of dollars have been invested in revitalizing this part of the city, and that work is beginning to bear fruit. In the vicinity are several loft condominiums and houses that have been completely redone, some of which may be valued at hundreds of thousands of dollars. However, there is still plenty of affordable housing left in the area.
Because it is only a few miles away from the university campus, this area has become quite popular with the younger crowd, making it an ideal place for someone fresh out of college or young professionals. The nightlife in the area is still extremely vibrant, even though it has slowed down compared to its unruly past.
Market Square
Located in downtown Knoxville is Market Square, a bustling area that offers unique entertainment, shopping, and dining options in and around the square. Living close to Market Square can offer outdoor concerts and movies, Shakespeare on the Square, a weekly Farmers Market, and much more. Getting housing close to this part of downtown can provide plenty of nightlife fun.
Fort Sanders
Popular with students at the nearby University of Tennessee, Fort Sanders is a lively, down-to-earth neighborhood known for its low-key dive bars and eateries serving pizzas, sushi, or Thai food. Grand Victorian-era mansions are scattered around the area, and the Laurel Theater presents folk concerts in a converted 19th-century church. Funky shops along Cumberland Avenue sell vintage clothing, books, and skater gear.
University of Tennessee Neighborhood
If you want to be a part of all the action, living close to campus might do the trick. This Knoxville neighborhood surrounds the campus of the university, making it the youngest population in the entire city. And while this area is mostly designed around the needs of college students, it is still an alright place to live if you want to find a place for a cheap price and don't mind the party-like atmosphere that goes along with living in a college area. An added bonus downtown is within walking distance, so you'll also be close to all the action and busy nightlife.
>> Ready for a night on the town? Check out these ten best spots for fun nightlife in Knoxville.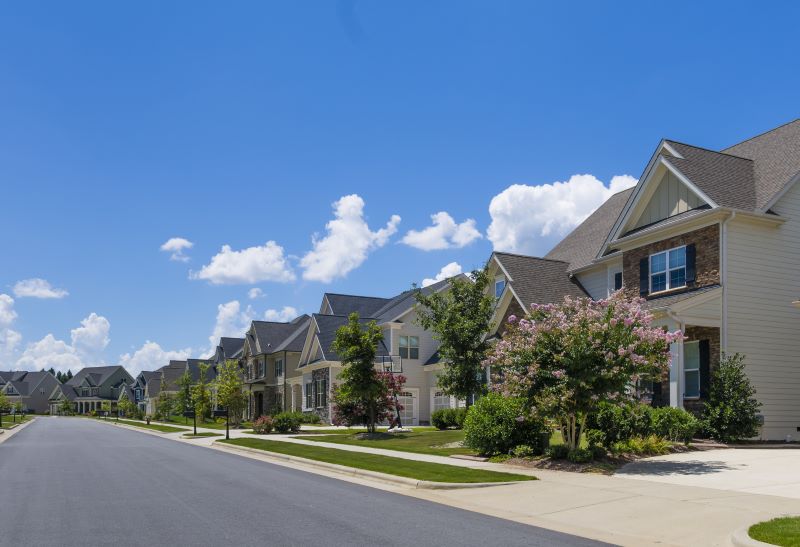 Best Neighborhoods to Live in Knoxville for Families
Knoxville is a great area to start a family, raise your kids, or retire. There are several great neighborhoods known for their excellent public schools and high schools, as well as their parks and safety. Below are five of the best communities to live in Knoxville for families.
Shady Grove
Shady Grove is one of the most family-friendly communities in Tennessee, placing in the top 2% of "family-friendly" areas throughout the state. Its combination of high-ranking public schools, low crime rates, and owner-occupied single-family homes makes a winning combination. It is a family-oriented neighborhood, making it easy to socialize and develop a strong sense of community. This neighborhood is an excellent choice for families with school-aged children.
Cedar Crest North/Whispering Hills
Cedar Crest North is among the best neighborhoods for families in Tennessee. Owner-occupied homes dominate the Cedar Crest North / Whispering Hills neighborhood, which has the distinction of having one of the lowest real estate vacancy rates of any neighborhood in America. Cedar Crest North is another top 10% family-friendly neighborhood, and you will find all of the amenities a family needs to thrive within close proximity.
Freeway/Bonta Vista Estates
Freeway/Bonta Vista Estates is a great option for families. The combination of a top public school system, low crime rates, and owner-occupied single-family homes make this neighborhood another top 10% family-friendly neighborhood. However, there is more of a mixture of young and middle-aged families here than in most top-rated neighborhoods.
Garland
If you're searching for a terrific place to raise a family, Garland is one of the finest in Tennessee. It's regularly among the top 10% of family-friendly places in Tennessee. Most of the demographics are comparable between Poplar Hill and surrounding areas, although there are some notable differences. Garland families place a premium on education, as seen by the strength of the local schools. In addition to being an excellent choice for families with school-aged children, this neighborhood is also a very good choice for young, college graduate families and executives.
Poplar Hill Rd/Chanute Lane
Poplar Hill Rd is one of the most family-friendly areas in Tennessee, with a score of 97.5% superior to the state average. This area's welcoming vibe is due to its reputable schools, low crime rates, and owner-occupied single-family homes. The neighborhood is made up primarily of families with school-age children, making it easy to socialize and develop a strong sense of community. Also, you'll find all of the amenities a family needs to thrive in this neighborhood.
>> For your next family outing, check out these free things to do in Knoxville!
Best Neighbourhoods to Live in Knoxville for Peace and Quiet
Looking for a peaceful area to settle down? Well, good news Knoxville can definitely offer you peace and quiet. Several parts of Knoxville are underdeveloped or can offer a slower pace for those looking to slow down. Below are the five best neighborhoods to live in Knoxville for peace and quiet.
Island Home Park
While the Downtown and Old City neighborhoods are perfect for anyone who likes to be in the middle of the action, they're not the most peaceful areas of Knox County. If your lifestyle revolves around quiet outdoor beauty, you might prefer the Island Home Park neighborhood instead. It's one of the best neighborhoods in Knoxville for those who love nature.
Seymour
If you take Highway 441 southeast of Knoxville, you can reach Seymour in about 20 minutes. This suburb is located 11 miles outside of the city and provides a sparse suburban getaway from Knoxville. 
Seymour has a population of 11,000 and is surrounded by nature. The median home value is $171,700, with a median rent of $913 per month. The majority (77 percent) of residents own their homes. While Seymour is close to Knoxville, it is not in the same county. Seymour is part of Sevier County, while Knoxville is located in Blount County.
Clinton
Clinton is a suburb of Knoxville with a population of 9,964. Clinton is in Anderson County. Living in Clinton offers residents a dense suburban feel, and most residents own their homes. Many retirees live in Clinton, and residents tend to be conservative. The public schools in Clinton are highly rated.
The median home value is $165,700, with a median rent of $702 per month. Clinton is said to have a great sense of community and friendship.
Alcoa
One alternative to living in Maryville is Alcoa, which is located right next door and close to the McGhee Tyson Airport. Alcoa has a lower median income of $35,000 and lower home prices. The median home cost in the area is $146,500. It's possible to find a place to rent in Alcoa for less than $800.
Alcoa is much smaller than Maryville, with a population of just under 10,000. However, it has many of the same benefits to residents. The public schools have high marks for quality, and it is easy to get to downtown Knoxville for work.
Most residents in Alcoa own their homes, and this neighborhood is more spread out than Maryville. Therefore, you are more likely to get a house with a large backyard or find a place with more space from your neighbors. There are also several parks in this area if you want some extra green space.
Norris
If you take I-75 north of Knoxville, you can reach Norris, a suburb with just over 1,000 people in Anderson County. The median home prices are higher in this area at $209,200, and 70 percent of residents own their homes. The remaining renters pay a median rate of $928 per month.
The residents of Norris tend to be older. Seventy percent of the population is older than 45, while 45 percent of the population is over 60. This is one of the best neighborhoods in Knoxville for established families and retired adults.
Best Neighborhoods to Live in Knoxville for Sports Lovers
Whether you like to watch sports or participate in the action, Knoxville offers several sporting teams, a minor league hockey team, a Double-A baseball team, and UT college sports. There are also some great sports complexes and venues around town and parks, bike trails, walking trails, and hiking opportunities. So, if you'd like to have access to all things sports, here are the five best neighborhoods to live in Knoxville for sports lovers.
University of Tennessee neighborhood
Living close to the University of Tennessee campus provides close proximity to all the college sporting events. Neyland Stadium is a local attraction that is home to the University of Tennessee Vols football team. And the Thompson-Boling Arena, which is home to the Tennessee Volunteers and Lady Vols basketball teams. Needless to say, living close to UT can provide close access to sports and fun sporting events.
West Haven
Located in the northwest portion of Knoxville is the West Haven neighborhood. This is a suburban area that has the charm of a small southern town while still being part of a major city. The highlight of the area is the massive, 120-acre Victor Ashe Park, which features several football fields, playgrounds, a small lake, and a golf course. This is a great place for someone who enjoys the quiet life that only a small town can provide.
Island Home Park
For sports lovers who also enjoy the great outdoors, Island Home Park offers beautiful parks close by. Island Home Park is by the river and offers picnic benches, a canoe launch for boating, a baseball field, and tennis courts. You can also walk to the Ijams Nature Center, a lovely wildlife sanctuary with 10 miles of trails and regular events for adults, families, and children.
Parkridge
Parkridge is located in East Knoxville and is described as an urban neighborhood with approximately 3,500 people. What makes this area of Knoxville great for sports enthusiasts is the Knoxville Municipal Stadium home to the AA Minor League Baseball team- the Knoxville Smokies. And for those who like outdoor activities, there is The Caswell and Chilhowee Parks and the Cansler YMCA.
Old City
Old City is a great area to be a part of all the action and city growth. Old City is the future location for the Knoxville Smokies' new baseball stadium. So not only will Old City provide an exciting city lifestyle but also close sporting events within walking distance.
Best Neighborhoods to Live in Knoxville for Entrepreneurs
Knoxville is a growing city and, a few years ago, was listed as one of The 10 Best Places to Start a Business. Entrepreneurs can take advantage of the city's strong economy and plenty of available business opportunities. Because of Knoxville's business-friendly climate, it holds a significant attraction for self-employed and business owners.
Below are the five best neighborhoods to live in Knoxville for entrepreneurs.
Old City
Timbercrest
Farragut
Oak Ridge
Maryville
Ready to Move?
Knoxville, TN, is a great city to live in and can offer fun nightlife, family-friendly communities, peaceful neighborhoods, sporting events, and business opportunities.
If you're interested in moving to the Knoxville area, working with a local real estate professional can help you narrow down your home search and find the best neighborhood for your needs.
However, if you're looking to sell your home in Tennessee, Alabama, or the Georgia area to move to Knoxville, working with a "We buy homes in Tennessee" company would be ideal.
One of the companies that buy houses in Knoxville, Nashville, Chattanooga, Atlanta, and Birmingham is Nexus Homebuyers. They have worked with numerous families that want to sell their homes quickly and for multiple reasons. So whether you don't want your house sitting on the market for months before getting an offer, or you'd prefer not to make any home repairs before selling, Nexus can make you a cash offer for your home in as-is condition.
Nexus Homebuyers is one of the premier cash home buyers in Nashville and the surrounding area. So if you need or want to sell your house without hassle and stress, contact Nexus Homebuyers today!