Knoxville is one of the best places to live in the state of Tennessee. The southern charm, the nightlife, and the scenery are just some of the many reasons why people love living here. It's also affordable compared to other major cities like Nashville or Atlanta!
In this blog post, we will discuss all of the pros and cons of living in Knoxville. For example, how the real estate prices are great! In addition, the four-season weather allows for a variety of activities year-round. And there's a lot to do on your weekends with all of the events going on downtown!
With so many benefits to living in Knoxville, you should definitely consider it an area where you want to make your home.
Every city has its pros and cons, Knoxville does too. Below we take a look at what those are exactly, so you can decide for yourself if Knoxville is a good fit for you and your family.
Pros of Living in Knoxville
Here is a list of pros to living in Knoxville that you'll want to consider.
It is located in East Tennessee
East TN is definitely a beautiful location! Great four seasons of weather with perfect temperatures all year round. Besides offering great weather, Knoxville is located near beautiful mountains & seven lakes where you can enjoy hiking or fishing during most days of the week. Even the Smoky Mountains National Park is located within 45 minutes of Knoxville! This makes the location perfect for people who love to be outdoors.
There are Many Job Opportunities
Knoxville has a thriving economy. The city is home to several large companies, including Pilot Flying J's headquarters, Regal Entertainment Group, and The H. T. Hackney Company (the fourth largest wholesale grocer). Knoxville also houses offices for several prominent corporations such as Bush Brothers, Sea Ray Boats, Thermocop, Petro's Chili & Chips, EdFinancial, 21st Mortgage, AC Entertainment, Ruby Tuesdays, and many more. 
Low Cost of Living
The cost of everything in Knoxville is lower than in other areas, making it cheaper to live here.
Not to mention Tennessee has no state income tax!
Also, it's easy to find rentals in great locations for very affordable prices. The average rent is actually $500 less than the state of Tennessee's average monthly rent, which makes Knoxville one of the top three most inexpensive cities to live in TN (Jackson and Chattanooga are also among these).
Many people love living here because it allows them to save money on housing costs while still enjoying everything this wonderful city offers!
Real Estate Prices are Good
If you want to buy a house or apartment, real estate prices will likely fit your budget needs. The average price per square foot currently is $156 and housing prices range from $29,000 to $7.9 million.
You can find all kinds of different housing options that fit into any budget, whether you're looking for something modern or classic/vintage.
Knoxville is Family-Friendly
The city is an ideal place to raise children, with lots of great schools. There are also many sports to choose from and lots of kids' extracurricular activities. Knox County has one of the highest concentrations of top-ranked public schools in Tennessee. Schools in Knox County have an average ranking of 8/10, which is in the top 30% of Tennessee public schools.
Knoxville is a College Town
Knoxville is the home to the University of Tennessee Volunteers making the city a fun place for sporting events and game days. Living in a college town can be fun for many reasons. Since college towns are populated with students, there is always plenty of social life to go around.
College towns tend to attract more restaurants and shops because they cater to the needs of students. A college town has various options for food too, so if someone's not looking for just one type of cuisine, they're sure to find it easily.
College towns also have plenty of festivals all year long that people can participate in or just watch. Plus, Knoxville is home to some fantastic annual events like UT's Big Orange Marathon!
Southern Culture
As with anywhere you live, it is important that you fit in and feel welcomed into the community and culture there. Knoxville is a diverse city rooted in southern charm and hospitality. It is easy to find local events and activities that fit your interests, whether you're looking for an afternoon of shopping at the mall or a night out on the town. Knoxville offers community organizations like the YMCA, PTA groups, churches/temples/mosques, etc. There are also lots of festivals and events going on every year.
The people here are very friendly and inviting, with a unique heritage influenced by Native Americans who once called this area home as well as those from Scotland and Germany in early settlement days.
In addition, the city is full of history and tradition. The Great Smoky Mountains National Park borders East Tennessee to the west, and just a few hours north of Knoxville, you can visit Civil War battlefields or travel through time at Dollywood in Pigeon Forge.
All these things contribute to making this an ideal place for those who want to live near the mountains, enjoy southern hospitality, and embrace history.
Great Healthcare
Knoxville has several healthcare facilities, each specializing in a specific area of healthcare. There are more than nine hospitals within the city limits and surrounding suburbs, including:
The University of Tennessee Medical Center is one of Knoxville's largest employers as well as its primary teaching hospital, with an annual economic impact on the region exceeding $500 million per year.
The UTMC specializes in cancer care, neurology, and neurosurgery, organ transplants, trauma care, behavioral health services for children/adolescents/young adults—the only facility within a 500-mile radius that offers this service.
Great Food Options
You won't find a more diverse culinary scene than Knoxville. You can find a variety of restaurants, from Asian cuisine to American staples, at your fingertips without ever having to travel too far from downtown.
The city's chefs are putting out some of the best food in Tennessee because they focus on locally sourced products and give their guests something new every time! You'll be surprised by how many restaurants there are that will not only meet your cravings but exceed them too!
Public Transportation/ Airport
For public transportation, Knoxville has the Knoxville Area Transit (KAT). KAT operates the public bus system for the city of Knoxville. The bus service comprises more than 20 fixed routes, trolleys serving downtown and the university area, and transportation for persons with disabilities.
Although Knoxville doesn't have an international airport, it does offer air travel out of the McGhee Tyson Airport. The McGhee Tyson Airport is both a public and military airport and is located 12 miles south of downtown Knoxville.
Cons of Living in Knoxville
Below are a few of the cons to living in Knoxville that you'll want to consider before making your decision.
Cost of Living
Although the cost of living in TN is cheaper than in other states, the volunteer state has higher average monthly energy bill costs than the national average. Also, Tennessee has one of the highest average sales tax rates, ranging from 8.5% to 9.75%, impacting Knoxville residences.
Crime Rates
Unfortunately, Knoxville isn't the safest city to live in. The chances of you being affected by a crime are high compared to other cities in the U.S. The two most frequent crimes that happen in Knoxville are related to violence and property crimes. That said, there are parts of Knoxville that are safer to live in.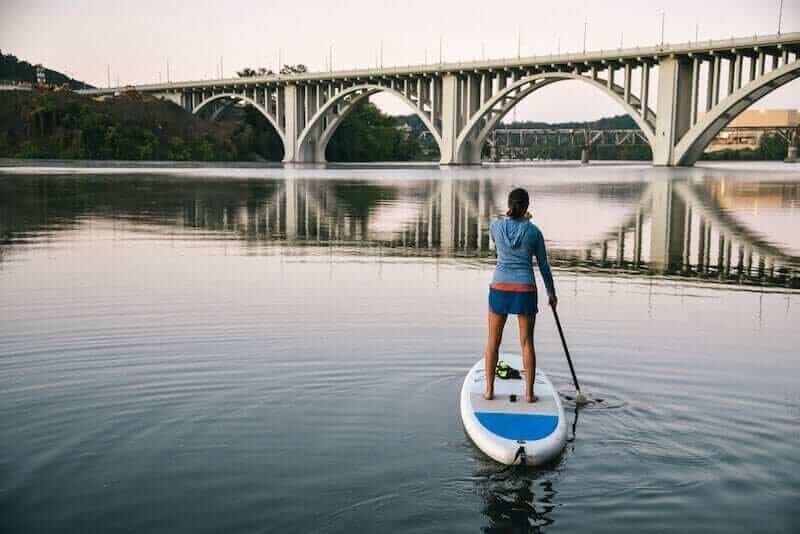 Hot and Humid Summers
Tennessee, in general, has hot and humid summers. Unfortunately, Knoxville is also impacted by the heat. No matter what time it is outside, it will feel hot during the summer months, so you'll want to plan accordingly if you decide to move to Knoxville!
Driving is a Must/Commute Time
Since Knoxville is a somewhat spread-out city, you'll need to be prepared to drive. And because the majority of residents are also driving into town every day, you'll also have to deal with traffic and longer commute times.
To give you an idea of how Knoxville scores in relation to other U.S. cities, Walk Score gave it these ratings:
Knoxville's walkability score is 62
Knoxville's transit score is 29
Knoxville's bikeable score is 36
Knoxville definitely has some room for improvement.
General Living in Knoxville
Overall, Knoxville offers a great quality of life and general livability. So whether you'd like to relocate for a new job, are looking for a family-friendly city to raise a family, or would like to find a place to retire, Knoxville is a great choice.
Knoxville has plenty to do and see so whether you're looking for a fast pace vibe with college sports, live music, and activities, or you'd rather have a laid-back, slower pace, Knoxville offers both!
So if you're interested in making Knoxville home, make sure to check out this guide to moving to TN before you do!
Is Knoxville TN The Best Area To Live?
Yes! Everyone should consider moving to this great town because of all its benefits and pros which outweigh the cons by a long shot. There are many opportunities here at every corner with housing options for everyone of any budget within the safe neighborhoods throughout the city. Also, with lots of festivals/events going on year-round, there's never a dull moment in this picturesque southern town.
Final Takeaways
The best place to live in Tennessee is in Knoxville! There are plenty of reasons why this city beats out the competition when it comes to living spaces and amenities available. It's a big enough town for anyone who wants some small-town charm but not so large that you can't find your niche with ease! The cost of living here won't break the bank either, which does make this an attractive option if you're looking into buying or renting a property in Knoxville.
If you need help finding the perfect location or want more information on what life is like as a resident – be sure to reach out! We are cash home buyers in Knoxville with tons of experience working with clients from all over East Tennessee, and we would love nothing more than to share our knowledge and expertise.
Also, if you're looking for someone to "buy my house Alcoa," Farragut, Maryville, or Sevierville, we're here to help! We buy homes in Tennessee, Georgia, and Alabama. We can make you a cash offer for your home within 24 hours, purchase it as-is, and don't charge realtor commissions. We also have helped homeowners with unique selling situations, like foreclosure, bankruptcy, liens, code violations, divorce, probate, and much more. So if you need to sell your house quickly, contact Nexus Homebuyers today!