Knoxville is a city in Tennessee that has been steadily growing. In recent years, it has become the third fastest-growing metropolitan area in the country.
It also was ranked as one of the top 10 best places in America for quality of life, and there are many reasons why this is true. With its no income tax law and low cost of living, Knoxville is an attractive place to move to for many people.
In this article, we'll discuss some things you should consider before moving to Knoxville, TN, in 2021. We will also provide a checklist for anyone who needs help with the move!
Checklist for Moving to Knoxville
Moving can be stressful and take its toll on anyone, so the best way to make your move easy is first to create a moving checklist. Below are some ideas to help get you started.
✓ Figure Out What You Want to Bring
This is a great time to go through all your personal belongings and decide what you'd like to take with you or get rid of. To help you through this process, get three empty boxes to be used for keeping, toss, and donate, and start going through everything. 
✓ Getting Financially Prepared
Be sure to have enough money saved up for your move. This includes renting a moving truck/van, gas, meals on the road, and any other expenses that may come up during your journey.
✓ Packing the Car/Van
Plan ahead and figure out if you need to rent a moving van, would like to hire movers or both. If you're moving on your own, make sure you figure out a way to transport your car too. When choosing transportation, don't forget to consider all of your belongings, including any furniture or large items!
✓ Deciding on a Place to Stay
Once you get here, it's important for anyone who is new in town to find a safe and nice place to stay. There are several hotels in the area, and Airbnb rentals are available. Having a temporary place to stay lined up before moving to the area would be helpful as you scope out the area before you commit to buying a house. Whether it's on your own or with your family, finding somewhere to live is one of the first things that new residents need to do in order to get settled.
✓ Find Employment in Knoxville TN
Unless you're retired or are moving to the area for a job, it will be important to have work lined up in this new city. Attending one of the local job fairs can help you find some great jobs in the area.
Things You Might Not Consider When Moving to Knoxville
One thing you might not consider when moving to Knoxville would be the cost of living. Living expenses are on the higher side in Knoxville, which can be a deterrent for new residents, but living a suburban lifestyle is a good compromise for those on a budget. With a little bit of research and budgeting, you should be able to find housing that suits your needs and requirements.
It is imperative to take note of the housing market in Knoxville before deciding on where to rent or buy. ​​Although houses and homes can be bought at relatively lower prices, this might not be the best option for those who are looking to settle down in Knoxville. Most of these homes and houses have been around since the mid-20th century, and as such, they need a lot of major repairs before you can move into one. So renting may be a good option or contacting a real estate professional to help you find the perfect home.
→ If you own an older home in the Knoxville area and would like to sell but have a number of repairs to make before listing your home, contact this top cash home buyer in Tennessee, Nexus Homebuyers, and request a cash offer for your house in as-is condition. 
The following are a few other things you might not consider when moving to Knoxville.
It is important to update your address to avoid getting mail at your old address. Additionally, if you're looking for a job, it is important to update your address so that potential employers can find you. Finally, it is important to notify the post office of your address change, as well as any other institutions or companies that may have your information on file, such as banks and schools. Of course, if you haven't found a home just yet, you can always set up a P.O. box instead. 
One thing you might not have considered when planning for your move is figuring out where your pets can stay while you're transitioning. At times, it is best to book a pet hotel ahead of time because they fill up quickly.  If possible, find someone who can take care of pets while you're moving or make arrangements with pet sitters ahead of time if they will be left alone during the day while you're busy. 
On a moving day, it's important to have your essential items in a bag ready to go. Your bag should have a change of clothes, toiletries, and other things like a cell phone charger. You'll appreciate having a separate bag with your personal items that you can get to easily without digging through packed boxes.
Before moving, try your best to utilize all of your groceries in the fridge and freezer; that way, you won't have to travel with a lot of food, especially perishable items. On a moving day, here are a few other ways to make meal plans:
1. Pack a cooler with food and drinks for snacks on a moving day
2. Figure out what you'll need to bring in the fridge, freezer, and pantry or throw away
3. Find someone to help you unpack your kitchen so that it's ready to use
4. Make sure everything is unpacked before going grocery shopping
5. Create meal plans for when you're settling in so that there are no surprises when it comes time to cook dinner
6. Find a place for all of your pots and pans, dishes, silverware, etc…
Pros and Cons of Living in Knoxville
So before you make the leap and move to the area, it'd be helpful to know what some of the pros and cons are of living in this East Tennessee city. Below are a few things to consider:
Pros of Living in Knoxville, TN
As a university city, there is always something going on. There are concerts and shows throughout the year as well as festivals and events taking place downtown (especially during football season).
The cost of living here has been described by locals as very affordable for those who want to have a family.
The city has been deemed very walkable with many places being within reach on foot, and there's also the option of using public transportation if necessary.
Knoxville's cost of living is fairly affordable.
The housing market in Knoxville has everything you need.
There are many good schools for children and colleges for older students.
Knoxville is known for its hospitality and friendliness
Cons of Living in Knoxville, TN
It can get rather humid here during the summer months (it is Tennessee after all) so if you dislike the heat, it might be good to consider this before moving here.
While there are many public parks and green spaces in the area, they aren't as accessible when compared with other cities in the US.
It can take a while to find a good job, and it can be expensive to live in Knoxville because of the high costs of living expenses.
The traffic can be unbearable sometimes due to the number of people that drive into town every day.
Costs of Living in Knoxville
The cost of living in Knoxville is lower than the cost of living in the Northeast or Midwest. However, the cost of living in Tennessee can vary depending on where you live. Generally speaking, the closer you are to Nashville, the more expensive living will be. Within Knoxville, there are a number of apartments and homes available for rent.
As a general guideline, a person with a salary that is equivalent to about $30,000 per year should expect to spend about $800 – $1,500 per month on rent and utilities without any major luxuries.
If you are looking for an apartment/house together with a roommate(s), this will also reduce the cost significantly and can be done easily through services like Craigslist or Facebook Marketplace.
Average utility costs per month vary depending on how much electricity you use, but they usually range between $75 -$200. Electricity is generally more expensive than gas due to Tennessee's abundant coal reserves, which provide cheap power throughout the state. Power prices have recently increased, and the average price for electricity is around $0.0995/kWh (as of September 2021).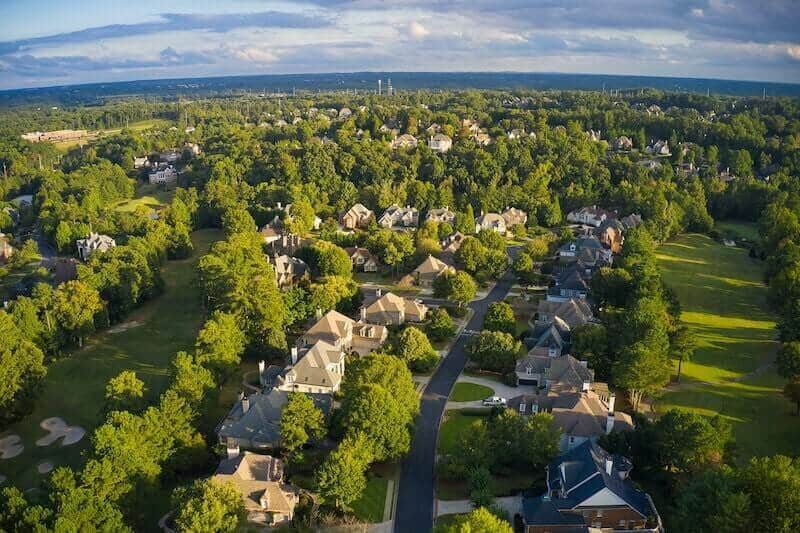 Housing Market in Knoxville
When relocating to Knoxville, you'll want to be prepared by knowing about housing market trends. The best course of action is to speak with people who live in the city, agents that focus on city living or even just do some research yourself. You can also use online resources to start your housing search. No matter what, remember to research the different neighborhoods. The best place may not be the first place you think of, so don't settle for less than what's perfect.
Traffic and Public Transport
Knoxville has an excellent public transport system called KAT area transit with buses that operate throughout the week. There are also taxis available throughout most parts of the city as well as Uber services which are very popular among locals. The I-40 runs through West Knoxville, where many people live, but you can expect to find anywhere from 0 – 40 minutes of commute time depending on your location in relation to downtown or the UT campus.
Key Amenities
Knoxville's key amenities that make the city unique and charming are the eclectic architecture and, of course, being a college town. The University of Tennessee football season makes the area come alive.
The downtown area has several local restaurants and a great farmers market in Market Square.
There are plenty of things to do in Knoxville and things to see around town, making the area great for adults and children alike. 
Crime Rate in Knoxville
One major downside about Knoxville is that it isn't the safest city to live in. It does have its safe areas to live in, but overall this city has the 5th highest crime rate in America for communities of all sizes. The chance that you will become a victim is 1 out of 19, which means your chances are pretty high if you live here.
When comparing Knoxville to other cities with similar populations, it turns out that our crime rates are even higher than average because 93% have lower rates compared to Knoxville.
That said, below is a list of the safest Knoxville neighborhoods:
Neyland Drive/ Kingston Pike
Shady Grove/Choto Estates
Blue Grass
Garland
Pine Springs
Poplar Hill Rd/ Chanute Ln
W Gallaher Ferry Rd/ Frank Herron Rd
West Emory
Fox Fire
Robinson Crossroads
Final Takeaways
It can be a lot of work to move from one place to another, but it's worth the effort. Moving is an exciting opportunity for you and your family because it means that you'll get to experience new things in life. We hope this guide has helped make your transition into Knoxville a little less intimidating by providing information about what to expect when moving here.
If you are interested in relocating to the Knoxville area or want to downsize or upsize your Knox home,  contact one of the companies that buy houses in Knoxville in as-is condition. The selling process is super easy and less stressful when you sell to a "we buy homes" company instead of a traditional buyer. By working with a buyer like Nexus, you can easily sell your house without making any repairs and avoid costly realtor fees. That way, you can focus on packing, moving, and making Knoxville your new home!